Lottie Boardman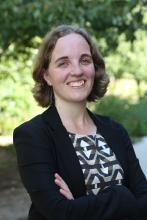 Exchange Partners:
Australian National University
Project Title:
Climate Change Politics and Indigenous Relations in Australia'sNorthern Territory
Lottie Boardman graduated from Yale in 2020 with a joint Master of Environmental Management (from the Yale School of Forestry & Environmental Studies) and Master of Arts in Global Affairs (from the Jackson Institute for Global Affairs). Her studies at Yale, supported in part by a Fulbright New Zealand Science and Innovation Graduate Award, focussed on the intertwined issues of climate change, international trade and food systems. Prior to matriculating at Yale in 2017, Lottie worked as a commercial litigation lawyer at one of New Zealand's top law firms and studied part-time towards a Master of Laws (completed with Merit) from Victoria University of Wellington, focussing on international and environmental law. Lottie graduated from the University of Canterbury in her hometown of Christchurch, New Zealand, in 2014 with a conjoined Bachelor of Laws (Honours)/ Bachelor of Science (Biological Sciences and Philosophy).