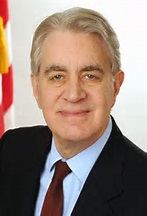 The Fox International Fellowship at the MacMillan Center at Yale hosted a seminar on "The Global Health Crisis: the U.S. and Beyond" on February 21. Former CEO of HealthCare.gov Kevin Counihan delivered the keynote lecture on the leadership lessons to be learned from the implementation of the Affordable Care Act (ACA). (view video) The discussion was especially relevant, given the newly elected Trump administration's announcing a "repeal and replace" of Obamacare. Jacob Hacker, Director of the Institution for Social and Policy Studies at Yale University and author of the book The Divided Welfare State: The Battle over Public and Private Social Benefits in the United States, moderated the keynote.
Mr. Counihan addressed the leadership lessons learned from the ACA, including the need for transparency, the importance of vendor management, and a step-by-step (rather than all-at-once) approach to phasing out the law. He also emphasized the importance of communicating the many successes of the ACA, such as a reduction in uninsured persons, women no longer being charged double for insurance, and health insurers' obligation to cover "pre-existing conditions." He concluded that all of these improvements are important, not least of all to the voter base of the Trump administration.
The keynote session was preceded by a panel discussion with current Fox International Fellows. It was moderated by Agnete Aslaug Kjær (Copenhagen University). The panelists offered a global perspective on health disparities and the need for reform and leadership in public health. (view video)
Israfil Boyaci (Bogazici University) presented evidence from a healthcare transformation program from 2003 aimed at increasing access to hospitals in the broader Turkish population. Alexandra Jönsson (Copenhagen University) discussed the need for a patient-centered approach to treatment, which she based on her ethnographic research with elderly patients with multi-morbid conditions. Satveer Kaur Gill (National University of Singapore) emphasized the need for a culture-centered approach to health research and health communication. Natalia Pires (University of São Paulo) spoke of the leadership roles of policy officials and judges in addressing the increasing judicialization of social and healthcare rights in Brazil. Together, the four panel presentations offered a global and multidisciplinary perspective on some of the most important challenges in global public health.
The event was the third in a series of leadership seminars hosted by the Fox International Fellowship over the course of the 2016-2017 academic year. The Global Health Justice Partnership Initiative and the Institution for Social and Policy Studies at Yale University co-sponsored The Global Health Crisis event.
---
Written by 2016-17 Fox International Fellow Agnete Aslaug Kjær (University of Copenhagen).