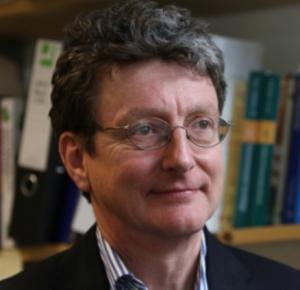 Corporations play an increasingly important role in society as actors who influence and govern the wellbeing of citizens, workers, and consumers. In today's globalized world, then, Corporate Social Responsibility (CSR) is of immense importance for society and for business—consider, for instance, taxation, working conditions, and environmental issues.
Corporate social responsibility and leadership was the focus of a seminar the Fox International Fellowship hosted on December 5 (view video). The keynote speaker Jeremy Moon, Velux Professor of Corporate Sustainability at Copenhagen Business School, conceptualized and addressed the distinctive leadership challenges related to CSR. "CSR and leadership are both contested concepts," Moon said. He continued, "Leadership is not about leaders, it's about process," and "CSR does not mean the same thing to everyone."  
In a 2008 study Moon co-authored, CSR is defined as "the policies and practices of corporations which reflect business responsibility for the wider societal good." Today, CSR takes many forms, ranging from corporate-centered to business-centered to multi-stakeholder initiatives involving civil society and government.
Moon stressed that leadership has always been critical within CSR, but that it presents itself in various ways. Some examples of these variations are the embedding of values and practices within the corporation, the reorientation of the corporation that often comes with intergenerational changes, and the CSiR (Corporate Social Irresponsibility) that stems from a lack of leadership. According to Moon, "Leadership can be transformational or transactional." He added, "The main leadership challenge is to combine the will for transformation with the capacity for transaction."
The session raised several questions: Who has the responsibilities? To whom are corporations responsible? What are the responsibilities? According to Moon, the keys to answering these questions are "issues, modes and rationales."  Regarding the first key, Moon said, "Issues in CSR have gone from industrial to postindustrial, from charity to governance, from firm and community to firm and value-chain." He continued, "Modes have developed from 'Chairman's wife' decisions to actual partnerships, social entrepreneurship, transparency and reporting." Hence, corporation responsibilities have changed from "'Do no harm' to 'How can we make the world a better place?'"
Questioned about the distinctiveness of leadership in CSR, Moon emphasized the importance of legitimacy and consumers' perceptions of corporations. Across social media there is evidence of a growing disenchantment with businesses and salaries and an underlying skepticism of leadership itself. To Moon, leadership is about engagement and creating "a family-like commitment to appropriate behaviors." The key to leading CSR, he suggested, is an interest in the past and present interactions between the firm and society, including learning by engaging with critics.
Marian Chertow, Associate Professor and Director of the Industrial Environmental Management Program at Yale School of Forestry and Environmental Studies and Yale School of Management, moderated the seminar. It was the second in a series of leadership seminars to be hosted by the Fox International Fellowship, headquartered at the MacMillan Center, over the course of the 2016-2017 academic year.
---
Written by Agnete Aslaug Kjær (University of Copenhagen) and Alexandra Brandt Ryborg Jønsson (University of Copenhagen), 2016/17 Fox International Fellows.