Alex Liang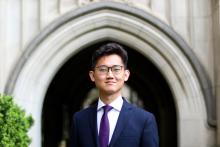 Exchange Partners:
Australian National University
Project Title:
Chinese Interference in Australian Higher Education
Alex Liang is from Houston, Texas, and graduated from Yale College with a B.A. in Global Affairs. His work focuses on the intersections of US-China relations, scientific research/higher education, and civil rights. He spent the 2019-2020 academic year as a Richard U. Light Fellow at Tsinghua University in Beijing and National Taiwan University in Taipei. He has worked with the Brennan Center for Justice at NYU Law, the Committee of 100, Asian Americans Advancing Justice, the Houston Mayor's Office, and his Congresswoman's Office in DC. On-campus, he was a First-Year Counselor and helped lead advocacy to protect scientists of Asian descent from discriminatory federal targeting.