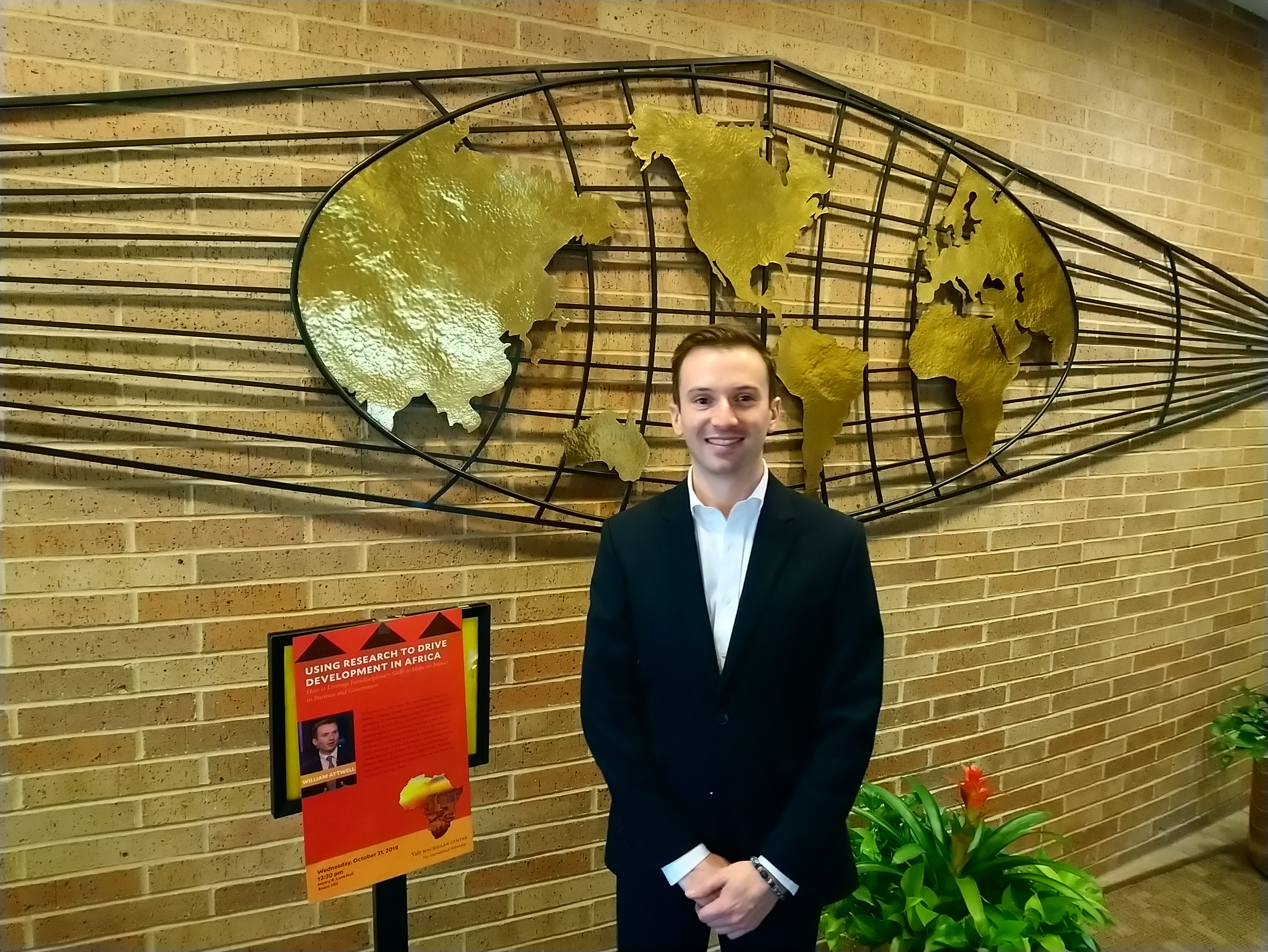 William Attwell, 2010-11 Fox International Fellow from the University of Cape Town, and currently Practice Leader for Sub-Saharan Africa at Frontier Strategy Group, returned to the Yale campus on October 31 to present a lecture on "Using Research to Drive Development in Africa" at the MacMillan Center. While he was here, we were able to talk with him about his experience as a Fox International Fellow:
How was your experience here at Yale as a Fox International Fellow?
I had a fantastic time as a Fox Fellow back in 2010-11. I was here doing a law program and used the opportunity that the Fox Fellowship offered to further pursue my research. I was working on international environmental law and, in particular, how countries in Southern Africa share water resources across their boundaries.
What did you do after finishing the Fox program?
My immediate concern when finishing up the Fox Fellowship was to wrap up my studies at the University of Cape Town. Once I graduated, I went to work in a policy role in government, initially at the South African Parliament, advising members of Parliament on areas of public policy relating specifically to economic policy. I was really able to apply the research skills I developed through the Fox Fellowship to public policy questions in South Africa. From there, I went on to work in the mayor of Cape Town's office, developing and implementing various strategic projects as part of a specialist delivery unit.
How has participating in the Fox International Fellowship program prepared you to be successful out in the world?
Gaining a global perspective and knowing how to engage with and build relationships with people across the world were things that really helped. Being exposed to the caliber of academics, teachers, mentors that Yale provided was certainly also critical and helped me up my game as a researcher. Having a relationship with this kind of program has been something that has been very stimulating and has kept me interested in research – and specifically applied research that solves real-world problems.
Have you kept in touch with any of the Fox Fellows?
I keep in touch with several of them. It's a good close-knit community of friends spanning the whole world. I became good friends with one of the outgoing Yale Fox Fellows from my year, and he's actually now a U.S. diplomat with the State Department based in South Africa, so we keep in close contact as well. Another good friend from my cohort is now a public policy professor in Paris, and we see each other whenever I'm in town. 
What advice would you give to someone who is considering participating in the Fox International Fellowship program?
My main suggestion would be to come with a very open mind as to what skills, experiences, and insights you can develop while in the program. One of the things I took away from my time here as a Fox Fellow was a multidisciplinary perspective on my research skills and how they can be applied to a whole range of different global problems that perhaps I hadn't thought about beforehand. You also need to think about how you can take advantage of all the amazing resources that Yale has to further your research work and your own personal development. Also, take classes outside of your normal academic discipline. I was doing a law program and researching law, but I certainly took advantage of international affairs and diplomacy courses, development courses, various public policy courses as well, and I found that very enriching.
When you think back on the time you spent here, what did you really enjoy most about it?
Well it helps that today's a really beautiful day in New Haven. So, that sort of strikes me immediately, the beauty of the campus and walking down the lovely tree-lined lanes certainly brings back very fond memories. Being back in Luce Hall at the MacMillan Center bring back lots of very happy memories about time spent here and sitting in very interesting seminars, but also, importantly, socializing and building very good friendships which have lasted many years now.