Jenny Jung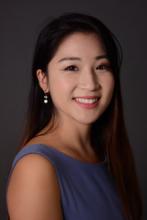 Project Title:
Policy Challenges in Maintaining Universal Healthcare
Born in Republic of Korea and raised in Australia, Jenny is passionate about poverty alleviation and improving health care systems particularly to vulnerable population groups. Jenny's professional experience focuses on international health system development in Australia, Bangladesh, Philippines, and Indonesia.
Jenny holds a Master of International Public Health, specializing in epidemiology of infectious and childhood diseases, at the University of Sydney. Jenny is currently a Doctoral candidate in Graduate School of Medicine, The University of Tokyo. Her research explores policy interventions to sustain universal health coverage in countries facing aging populations. She is also enrolled in a leading interdisciplinary learning program at The University of Tokyo where she is incorporating health economics, public policy, and systems innovation engineering to medicine to solve social issues in Japan.