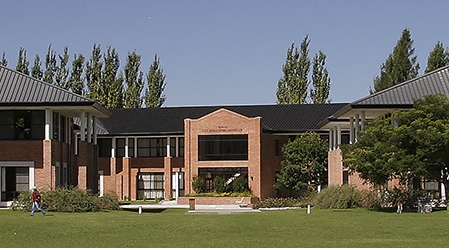 The Fox International Fellowship at the Whitney and Betty MacMillan Center for International and Area Studies at Yale has expanded its global network of partner institutions to include the University of San Andrés, Argentina. The Fox International Fellowship is a graduate student exchange program between Yale University and, with the newest addition, 20 world-renowned universities. 
Founded in 1989 by the Scottish Community in Argentina, Universidad de San Andrés is recognized as one of the most prestigious academic institutions in the region. With an enrollment of over 1,900 students, it offers both graduate and postgraduate degrees in Business, Law, Social Sciences, and the Humanities.
 "We are excited to have the University of San Andrés, Argentina join us," said Ben Cashore, Joseph C. Fox Director and a Professor of Environmental Governance and Political Science at the Yale School of Forestry & Environmental Studies. "The goal of the Fox International Fellowship is to enhance mutual understanding among the peoples of the U.S. and other countries by enabling scholarly exchanges and collaborations among the next generation of leaders. Therefore, it is imperative that we continue to expand the program's global reach."
Fox International Fellows are selected for their potential to become leaders in fields that are policy significant, historically informed, and socially meaningful. Fellows' research projects and academic interests reflect the topics that many of the world's major decision-makers face, as well as those that have the potential to open new channels of debate. There are more than 600 Fox Fellow alumni around the world.
"The Fox International Fellowship program is an important part of the MacMillan Center because its fellows' engage in research that connects to practical problems facing our world," said Ian Shapiro, Henry R. Luce Director of the MacMillan Center and Sterling Professor of Political Science. "We are very grateful to the Fox family for their extraordinary generosity over the years that has allowed the program to grow and expand."
The inauguration of the exchange will take place at a conference scheduled for October 18, 2019. The theme of the conference will be "Poverty & Inequity" and feature keynote speakers from Yale and University of San Andrés.
The Fox International Fellowship institutions include:
Yale University, United States
University of San Andrés, Argentina
Australian National University & University of Melbourne, Australia
University of São Paulo, Brazil
University of British Columbia, Canada
Fudan University, China
University of Copenhagen & Copenhagen Business School, Denmark
University of Cambridge, England
Institut d'Études de Politiques de Paris, France
Freie University of Berlin, Germany
University of Ghana
Jawaharlal Nehru University, India
Tel Aviv University, Israel
University of Tokyo, Japan
El Colegio de México
Moscow State University, Russia
National University of Singapore
University of Cape Town, South Africa
Boğaziçi University, Turkey
The Whitney and Betty MacMillan Center for International and Area Studies at Yale is the University's focal point for promoting teaching and research on all aspects of international affairs, societies, and cultures around the world.